THE GUILD IN THE PRESS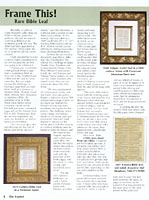 Frame This! Rare Bible Leaf

- Southern Framer, April 2002
Recently, a caller to Clark Howard's radio show on WSB in Atlanta posed this problem: she had an original Gutenberg Bible that she wanted to give to her son. The Bible had been appraised at $30 million. What could she do to avoid the gift tax ramifications?
Clark directed her to find a lawyer highly experienced in tax law because the tax bite was going to be substantial.
Chances are, a customer is not going to bring a page from a Gutenberg Bible in (they sell in the neighborhood of $60,000) for you to frame some day. But you might receive the challenge of framing a page from an early bible, such as a Geneva, a Bishop's Bible, Rheims New Testament, or Matthews Bible, all published prior to 1650. While these bibles (when complete) can be worth $20,000 and more, individual pages sell on the internet from $15 to $45. Surprisingly, they are not very expensive, yet many are beautiful, as well as historical collectibles.
"You can pick up a 400-year-old page for the cost of taking your family out to a movie," said Mel Meadows, a collector and a vendor on the Ruby Lane website. At this writing, Mel was offering a 1607 small folio (8" x 11 1/2") Geneva Bible leaf for sale for $14. (Check out his current offerings by visiting www.rubylane.com/shops/bible-leafs.)
So how do you frame a document page that is older than the Constitution? We offered this challenge to Blake Vonder Haar, President and Conservator-in-Charge of the New Orleans Conservation Guild, Inc. and Antique and Vintage Frame Gallery. As you can see, Blake returned with a superb work. Here are her comments about this challenge:
"We are a professional art conservation center, and our frame shop and gallery feature a selection of over 500 antiue and vintage frames, so of course we relished in the thought of featuring some wonderful old frames for this project. The challenge of using vintage and antique frames is, of course, size and proportion. You can't (and shouldn't) always cut the frames down to fit the artwork, so creative solutions must be found to make the frames and the artwork live happily together and complement each other. We felt that the highly ornate decorations on these frames work extremely well with the plain text of the bible pages, and the result is a truly unique and wonderful piece of art.
"For the 1611 Geneva Bible leaf, we used a highly ornate Victorian frame with flowers, acanthus leaves and vines measuring 4 1/2 inches wide. We didn't have room to mat it, so we chose to use a 19th century gold leaf Italian liner to fill the space. Then, we added a small beaded fillet on the inside edge to reflect the large pattern on the original frame and added a nice visual beat to the finished product. Of course, we used UV filtering conservation glass on both projects and held this one off the page with spacers.
"The early 20th century frame with the winding grape vines, leaves and bunches in a distressed silver relief just seemed terribly appropriate for a biblical subject, and we couldn't resist. For the 1648 Vulgate leaf, we used a Crescent Moorman linen mat in medium brown for the inner mat, set off with a nice wide (1/2") silver leaf fillet, which nicely mimics the silver relief pattern on the frame, the topped it with a Bainbridge Oyster silk mat."
Nice work, Blake.
A little more about those rare bibles. Complete pre-1650 bibles are rare. A complete first edition 1611 King James Version (KJV) is valued at $100,000 to $300,000. But prices drop radically after that, and non-first edition KJVs printed after 1611 and before 1650 can be found for sale between $2,000 and $5,000, depending on the condition of the bible.
Understandably, more partial bibles have survived the centuries that complete ones. A book seller who buys a partial bible has a couple of uses for it - either it can be sold as individual leaves, or parts of it can be tipped in to repair and complete another partial bible. Mixing and matching parts of bibles may seem almost sacrilegious to some, but for antiquarian booksellers, the practice is SOP, and the financial rewards are great.
In printing the KJV, the Geneva Bible and others, only the title pages were changed from year to year. The text itself remained the same, so pages or sections can be tipped in that were printed on the same press by the same person in the same year.
Title pages are also very valuable, running into the hundreds or the thousands of dollars. Mel Meadows has noticed a didtinct lack of title pages to the 1611 KJV. "Someone started collecting them a long time ago."
And about that Gutenberg Bible...in the three years it took a monk to create just one bible, Gutenberg printed 180, each with 1,828 pages. If only Gutenberg had also invented IPOs. (As with most innovators, Gutenberg's financial status was precarious most of the time. At one point, a creditor took him to court, and he lost his printing equipment and half othe Bibles he'd printed. However, there was a happy ending. The Bishop of Mainz recognized the importance of Gutenberg's printing press and appointed him a court courtier. He also granted Gutenberg a stipend of 2,180 liters of grain and 2,000 liters of wine per year, allowing him to live comfortably until his death in 1468.)
Even though he lived in the mid-1400s, Gutenberg had marketing saavy. He specifically carved his typeface to look like handwriting. Now it's possible that he wasn't very creative graphically and couldn't think of any of the hundreds of typefaces available today. However, it apppears he deliberately tried to make his printed bible to look like the manuscript bibles painstakingly hand-lettered by monks and scribes that sold for top dollar. Maybe he wanted to make sure his bible sold.
Today if one of the few existing Gutenberg Bibles came to market, it would easily sell for $30 million dollars or so, according to John Jeffcoat III, marketing director of www.greatsite.com, an Internet seller of rare bibles. "The last time a Gutenberg Old Testament fragment (not even complete) sold, it commanded over $16 million."
Our thanks to Blake Vonder Haar of The New Orleans Conservation Guild, Inc., a center for restoration, conservation and research of fine arts and antiques offering over 500 frames ranging from 15th century Italian to 20th century tramp art, as well as contemporary and custon-designed reproductions. Reach Blake at 504-944-7900, info@art-restoration.com, www.art-restoration.com or write 3301 Chartres Street, New Orleans, LA 70117.