GILDING AND RESTORATION OF GILDED OBJECTS
Whether on frames, furniture, porcelain or objects we provide a full range of techniques using a variety of materials. We specialize in the ancient practice of water gilding, and use real gold leaf, silver leaf, or whatever material is appropriate to the piece. Finishes are toned, aged or distressed to match the original object, or to the customer's specifications.
FURNITURE RESTORATION
We offer the restoration of gilded and polychromed or painted furniture only, specializing in the damaged finishes rather than major structural repair.
Previous restoration removed, and original surface exposed
After regilding and toning to match existing finish

18th century English Giltwood table
| | |
| --- | --- |
| before restoration | restoration complete |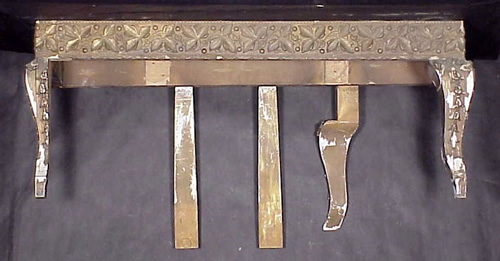 before restoration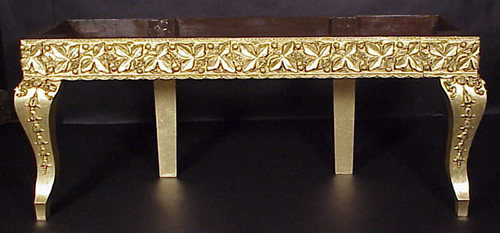 after restoration

An Italian Neoclassical carved giltwood console table, 4th Quarter 18th century.

Detail of side of table. Original finish nearly completely lost from over-cleaning and wear. Severe chipping and loss of carving throughout.

Completed table after fine carving, gesso, bole, water gilding, distressing, toning and sealing to protect it from further damage.