THE GUILD IN THE PRESS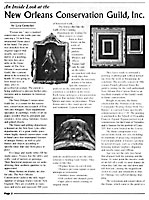 An Inside Look at the New Orleans Conservation Guild, Inc.
by Lisa Gentcher
- Southeastern Framer, July 2000
"Excuse me," says a masked conservator as she walks past me carrying a 24-inch long ornamental frame piece in her hand. The piece was detached from its original support that usually surrounds a mirror or a painting, but now lays on a table in the frame studio of The New Orleans Conservation Guild, like a patient about to be restored to health. It's not going to look brand new or shiny after its prescribed procedure. The patient is being stabilized to prevent further deterioration and to maintain its historical integrity.
The New Orleans Conservation Guild, Inc. is a center for the restoration, conservation and research of Fine Arts and Antiques. Their departments specialize in paintings, works of art on paper, wooden objects, porcelain and ceramics, stone, glass, furniture, frames and gilded objects.
The frame and giIding department is housed on the first floor. Like other departments, it's a great studio space where highly trained conservators work to hand carve lost ornamental features of antique frames, as well as gild frames and objects according to specific tones that vary from piece to piece.
Five large and sturdy tables fill the studio space. Frames line the tables and walls, void of mirrors or paintings. Their functional purposes are set aside, allowing their aesthetic qualities to be appreciated.
Many frames on display are also for sale. The New Orleans Conservation Guild is the only major supplier of antique frames outside New England. They are available in many sizes and styles and represent 200 years of historical work.
The frames that line the walls of the Framing Department are waiting for their owners to return them to their homes on the walls of museums, parlors, restaurants, libraries and offices. Frames laid side by side on the tables are matched with their work slips that describe the necessary actions to be taken. Specific notation of analyses on the individual frame's condition is included on the forms. Each frame undergoes a documentation process that includes before and after photos and notes on procedures. When frames arrive they need special care and treatment. Typical work orders indicate modification is not the only solution to healing weak frames. They come in like this:
* Replace losses to carved trim.
* Remove previous repairs or poor attempts at restoration.
* Stabilize loose ornaments.
* Fill cracked and chipped gesso.
* Spot gild to match existing or original finish.
They leave ready to surround a painting or photograph without detracting from the work or threatening its condition. The recently conserved 18th century French giltwood frame the guild is storing for the (still unfinished) New Orleans Ritz-Carlton Hotel is an excellent example of the Guild's work in frame conservation.
Bought at auction, the frame, which holds the "Portrait of an Army Commander Wearing Armor With Two Batons" is a period frame specifically commissioned circa 1710. The painting is attributed to the School of Hyacinthe Francois Rigaud. Rigaud painted royal commissions for the Court of Versailles and is famous for his portrait of Louis XIV that is now housed in the Louvre.
The frame components were carved from wood, not cast, including its multitude of projecting ornaments. Carved and gilded, it features spectacular period designs, such as a baldachin featuring military trophies, draperies and tassels, ropes and ribbons.
Age was not the only loss factor that plagued both the painting and the frame. At some point the massive work of art fell off a wall. As most frames do when they fall, this one slid down and fell forward, causing the magnificent crown to crack and ornaments to shatter. Damage was suffered during shipping.
The restoration and conservation of this frame, which came to the guild in a multitude of shattered and weakened pieces, was a labor-intensive undertaking. It took over 120 hours to complete cleaning, stabilization, reconstruction, water gilding and toning.
Treatment included the stabilization of all weak and loose ornaments. A section of spears from the right side had to be cast, hand carved and placed on the left side. Layers of soot were cleaned and removed. The surface had to be built back up to compensate for extensive cracking and chipping.
The dome was cracked in half from the backside, ribbons were destroyed, and chips were rampant throughout the fringe ornamentation. Apprentice conservator, Jason Poirier, under the direction and supervision of a master conservator, had to replicate the sections where pieces had been completely destroyed. He hand carved and applied four of the tassels at the crown, thin layers of flowers that run along the frame, a feather that looks lighter than it is, heraldic symbols, larger side tassels and ropes, and fringe that are all carved wood.
"When it came in, it looked terrible. Its condition was weak and fragmented. We removed two distinct tones of black soot that came off the frame." Poirier said.
After the frame was put back together and cleaned, conservators had to prepare the frame for water gilding. This process uses real gold, and is very labor-intensive because of the attention to detail required in preparation for gilding. The new gilding was then toned to match the original finish.
To his amazement, Poirier said the frame went back together beautifully, with no problems and without a hitch. The size alone of this frame, not to mention all the detailed ornaments, was intimidating at first. Though he had no problems with achieving exact fits, he doesn't dismiss the level of difficulty this project entailed.
"Spears were duplicated from the right half portion of the central ornamentation by taking a cast. From there I had to hand carve the piece in wood. It was like magic. When I put on the left portion it was a complete match to where the original spears were attached."
It's important to note that all treatments must be reversible. This maintains the integrity of the materials and the original work. The rule of reversible treatment allows future conservators to work without complications, in the event of another tragic fall or rough voyage. Furthermore the original artifact is allowed to remain intact.
Back in the studio another apprentice applies bole, a clay-like substance used in preparation for gilding, to a much smaller frame that will receive the same care and attention to detail as the example given above. When all is said and done, the conservators feel a special attachment to the pieces they work on. They are careful to preserve the historical identity of the frames.
Blake Vonder Haar, President and Chief Conservator of The New Orleans Conservation Guild, encourages an understanding of why it is important to restore original and antique frames. In the past when a frame was commissioned for an individual painting, its cost was often equal to or more than the painting. A painting is also more valuable with its original frame than with a new replacement. "The goal is to restore a work to its original condition using minimal intervention and to conserve the piece from further deterioration", she said. "If you were to restore the Venus de Milo you would fabricate new arms and attach them somehow. In conserving the sculpture your intention would be to prevent other parts of her from falling off through stabilization. We do a combination of both to preserve a work's historical integrity," Ms. Vonder Haar said.
Artisans at The New Orleans Conservation Guild can reproduce frames from any historical period. Clients and collectors can choose from a variety of museum-quality mouldings, match an existing frame or have the guild create one from an original design.
Because The New Orleans Conservation Guild handles the art of many major collections, and operates as a studio/laboratory, security and safety require that appointments be made in advance for consultations. For an appointment or more information, call (504) 944-7900 Monday through Friday.