THE GUILD IN THE PRESS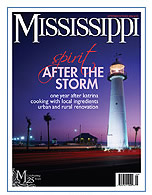 saving GRACES
By Kristen Twedt
Mississippi Magazine, September/October, 2006
Restoration offers new life for storm-damaged artworks and heirlooms

Jan De Groot's dark eyes and raven hair gleam in contrast to the snowy wingspan of an owl stretched just beyond his right shoulder. Wearing a deep blue jacket, he clutches a rifle with one hand while checking his pocket with the other. His is an image painted in 1937 by American artist Jerry Farnsworth, one that Jean and Ed Davidson assumed was lost forever to the clutches of Hurricane Katrina.

"Our neighbor, Phil Kehoe, found the painting on his property face-down at the bottom of a debris pile seven weeks after the storm," recalled Jean from her temporary home in Pass Christian. "He told us he had found a painting. My husband asked if it was of a man with a white owl. When he said yes, we knew he had found our Jan De Groot."

Like so many of their Gulf Coast neighbors, the Davidsons lost essentially everything to the wind and water of Hurricane Katrina last August. Their home on the Bay of St. Louis disintegrated in the wind and waves of the monster storm. Somehow, a portrait they purchased four months earlier survived.

Cherished art, family heirlooms, antique furniture, and irreplaceable items like photographs, jewelry, and china all suffered the ravages of massive flooding and hurricane-force winds. But, as Jean attests, conservators with specialized training in restoration can work miracles.

"It was caked with mud, grass, all kinds of foreign matter," said Jean of her recovered painting. "We couldn't tell what kind of condition was underneath. We set it against the wall, and the frame began to warp. A friend gave us the name of a conservator in New Orleans. That was Blake Vonder Haar at the New Orleans Conservation Guild."

In the year following Katrina, director Vonder Haar and the guild's staff of some 25 conservators established a regional epicenter for objects in need of restoration. The guild's role in recovery has extended far beyond the specialized techniques used to restore keepsakes for families lucky enough to rescue possessions from ruin.

"We often say we've become more grief counselors than anything," said Vonder Haar. "Often the only things left even remotely salvageable in their homes after the floodwaters receded were the things left hanging on the wall, so they mean everything to them. The works often look horrible and irreparable, covered with mold and debris, all bent, warped, and misshapen and often unrecognizable. But we've had amazing luck so far and have developed some new techniques which are giving us about a 98 percent success rate with significant or complete restoration."

Conservators use training obtained in specialized degree programs and extended apprenticeships to conserve and restore paintings, works of art on paper, frames, gilded objects, porcelain and ceramics, stone, glass, and furniture. Conservator Sharon Blank was hired by the Walter Anderson Museum of Art (WAMA) through the American Institute for Conservation of Historic and Artistic Works after floodwaters rushed an off-site storage facility housing 175 linoleum blocks carved by artist Walter Anderson, leaving the blocks weakened and waterlogged.

"Because they are so large and heavy, the blocks were difficult to move and stayed wet and covered in mud for several weeks after Katrina," said Blank.

The National Guard moved the hefty blocks, made of battleship linoleum, to the museum. Blank's meticulous work involves completing a detailed database as well as preparing extensive photographs and notes. "It's a real challenge because there are different types of linoleum with different chemical makeups," she said. "Sample analysis will be done at the Winterthur Museum in Delaware, and I am doing small-scale tests here to be sure the processes we use work like they should to restore the blocks."

Conservators employ chemical analysis and microscopic evaluation in conjunction with a wide range of tools to determine how best to proceed with restoration. Blank emphasized the difference between the goals of conservation and restoration.

"With conservation, we preserve what's original without causing any damage," she said. "Restoration makes the piece look wonderful again. You might remove some of the original piece. The focus of one is on conserving original material, while the other is more on repairing damage."

After water and other components of catastrophic events like Hurricane Katrina render a piece heavily damaged, Vonder Haar says a conservator can give you a realistic idea of what can be saved and what cannot.

"Make sure a trained, professional conservator has inspected everything salvaged to determine whether it can be restored and to what degree," said Vonder Haar. "Then you can make the decision as to whether it's worth it to you emotionally or financially to have it done." Cost for restoration varies greatly, and conservators usually charge an hourly rate. Many offer free consultations to determine if restoration is a viable option.
Hilda Ryberg of Ryberg Restoration in Ocean Springs has encouraging words for owners of fragmented fine porcelain, crystal, and glass items: such pieces can often be reassembled and restored.

"Don't throw anything out that is broken," said Ryberg. "We use acid-based commercial adhesives that can work very well. We have had a lot of success repolishing silver and repairing those pieces, also."

Antique firearms pose unique restoration challenges, since they feature wood and metal components as well as complex firing mechanisms. Ellis Joubert of New Orleans, who specializes in firearms made in the years up to 1898, offers hope in the cases of damaged weapons and other similar items. "I am a master silversmith and do a lot of work in fine antique metal restoration as well," Joubert said.

Often, a single item requires the talents of several conservators. It is in these cases that the New Orleans Conservation Guild melds its areas of expertise to bring treasures back from the brink of destruction. "We work as a team," said Vonder Haar. "We all work together on all the pieces."

Duncan Cox of As You Like It Silver Shop in New Orleans has seen a plethora of items returned to their original glory. "We have restored everything you could imagine that is made in sterling or silver plate," said Cox. "Examples include jewelry, tea services, candle ware, and flatware."

In some cases, the damage is simply too great to proceed with restoration. Jessica Hack, a textile conservator in New Orleans, saw a lot of irreversible damage to upholstered pieces, needlework, quilts, rugs, and tapestries after Katrina.

"Some textiles were too badly damaged by black mold, which both embeds itself in the fibers and rots them," said Hack. "We examined textiles that had been exposed to raw sewage, oil spills, and various unidentifiable chemicals. Carpets that were submerged in water for a period of weeks dry-rotted and began to tear apart. Many pieces also suffered color bleeding. Often the color run could not be reversed, or the chemicals required to reverse it would have damaged the fragile textiles further."

Optimistically, Hack advised that most textiles offer some hope of improvement after water damage. "Most textiles can at least be improved by cleaning and some type of conservation treatment," she said.

The fury of Hurricane Katrina decimated much of the beauty found both inside and outside the homes lining the Mississippi coastline. Jean Davidson found a reason to remember and rebuild in the form of a painting now deemed priceless, at least to her and her husband.

"You acquire things over the years, you know," said Davidson. "We lost a lot of inherited things, personal items with deep sentimental value and objects of art we collected. But to have something taken away and then given back in such an unexpected way--it carries so much more meaning to us than before."

If and when hurricanes threaten their Gulf Coast home again, Davidson promises to leave in the company of a dear friend.

"This painting that was so beautifully restored is a wonderful reminder of the good things that remain here, the heart and the spirit of this town that drew us here and kept us here," said Davidson, who has lived with her husband in Bay Saint Louis for 30 years. "Mr. De Groot will definitely evacuate with us next time."--Kristen Twedt

delicate MATTERS
After a hurricane or other disaster strikes, there are a few steps homeowners can take to improve the likelihood that their heirlooms can be saved. While no advice is guaranteed to work in every situation, here are a few general tips gleaned from the New Orleans Conservation Guild, the American Institute for Conservation, and the Heritage Emergency National Task Force:

* Always wear plastic or rubber gloves during the initial cleanup.

* Work to prevent mold by reducing the temperature and humidity around your treasured objects.

* Let items air-dry naturally indoors. Avoid hair dryers, irons, ovens, sunlight, and other heat sources. Use fans to increase air flow.

* Gently remove photographs from wet albums and rinse with clean water, but do not touch photo surfaces. Allow them to dry on a plastic screen or paper towels; avoid contact with other surfaces.

* Place paper towels between the pages of soggy books. Wet books can also be frozen, wrapped in paper, and cared for later.

* Collect all broken pieces of porcelain, china, and glass in an unsealed container and allow to dry thoroughly before attempting any repair.

* Rinse metal objects with clean, distilled water, and dry quickly with cotton or paper towels to prevent corrosion.

* Briefly rinse silt or debris from water-damaged textiles with clean, cool water, and blot with towels. Lay flat to dry beneath cotton sheets. Textiles can sometimes also be frozen if they can't be tended to right away.

* Allow furniture and other wood objects to dry slowly in an environment away from water but still with some humidity. If veneer begins to pull away, don't try to put it back in place; the fragile surface could break.

* Don't remove a damaged painting on canvas from its frame. Shake out as much water as possible, then dry naturally. Artworks on paper should be removed from frames and allowed to dry flat on a towel or newspaper.

* If a piece is valuable, consult a professional conservator before attempting a do-it-yourself restoration.

* Ask for references and cost estimates before entrusting heirlooms to a conservator or restoration expert.