THE GUILD IN THE PRESS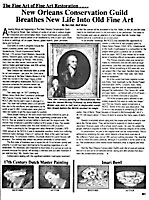 The Fine Art of Fine Art Restoration...
New Orleans Conservation Guild Breathes New Life into Old Fine Art
By Ken Hall, Staff Writer
- Southeastern Antiquing and Collecting Magazine, July 2000
Amazing things are happening at The New Orleans Conservation Guild on Burgundy Street. Vast numbers of works of art are in various stages of restoration and conservation there. Sound techniques and scientific analysis are used to revive pieces of art weathered by time or poor care. Work is done on paintings, art on paper, frames, gilded objects, glass, porcelain, stone and furniture.
Examples of work in progress include the noted Louisiana painter Jean Joseph Vaudechamp, French impressionist Berthe Morisot, 17th century Dutch Masters, Newcomb pottery, Steuben glass, some early 19th century watercolor renderings by Persac, 16th century Ivory German altar pieces, handcarved 18th century Italian gold leaf frames, and 20th century abstract prints by Knox Martin.
New Orleans has historically been a center for art and antiques. Last year, the Guild came to the rescue of the New Orleans Museum of Art when two frames in the Edgar Degas exhibit required emergency stabilization. NOCG's conservators remedied the problem before the exhibit even opened. Visitors were none the wiser.
Two years ago, an 1877 painting by William Henry Buck titled 'Louisiana Landscape With Figures Graying' made its way to the NOCG after having spent years in storage in a barn. The work had suffered abut a 20 percent loss due to the conditions, and appraisers put its worth at just $1,000. Conservators were given a mere two weeks to get the piece ready for auction.
"Most people looking at the work would have been inclined to paint an entirely new sky," said Blake Vonder Haar, supervising conservator at the NOCG. "But we wanted to remain faithful to Buck and his original work." Ms. Vonder Haar employed a pointillist method to fill in areas of loss. Two weeks and thirty-two paint brushes later, the work fetched $14,500 at auction.
When a painting by the Georgia-born artist Alexander Drysdale (1870-1934) arrived at the NOCG, it was in deplorable condition. Aside from suffering extensive water damage, it had a 4" vertical slit. Most of the paint had been washed away. To compound matters, Drysdsale diluted his paints heavily with kerosene. The method was unique but proved unfriendly to conservators.
The first order of business was to repair the slit. If not treated quickly and properly, it would have been detrimental to the painting regardless of a full restoration. "It's necessary and important to treat holes in a canvas as soon as possible because the canvas will develop a memory and curl after treatment if you wait too long," Ms. Vonder Haar said.
Conservators dealing with this significant problem must apply treatment so that the canvas will be re-trained to lay flat. Holes, or slits as was the case, need to be stabilized even if a full restoration is not performed. The repair to the Drysdale work was an adaption of a technique that Ms. Vonder Haar learned about at a conference on conservation.
In yet another challenge, the NOCG was awarded the opportunity to restore a collection of rare property plans by Marie Adrien Persac (1822-1873). Unbeknownst to the Guild, it participated in a competition for the project when given a practice run on another work on paper. NOCG was chosen for its excellence in handling difficult conservation problems.
The Persac property plans are owned primarily by institutions and are still used as legal documents. Less than one percent are privately owned. 'When something is 200 years old, you can expect that it has been handled many times in the past," Ms. Vonder Haar said, "and these were no exception."
All of the works had been repaired numerous times, most drastically by the Works Project Administration (WPA). Creases, tears, holes, punctures, pigment and ink discolorations all plagued the watercolors. Plus, heavy dirt, water and tape stains - combined with a 5.5 pH level - all had to be either removed or adjusted.
"All of the property plans adhered to secondary- supports that were in really bad shape," said Thomas Sweets, paper conservator at NOCG. "Some of the loss was decorative." The Guild is in the process of conserving 23 of the works. One of them, 'Three Squares of Ground in McDonoughville" (46.5" x 26.78') will require about 17 hours of work to reverse the many years of damage.
Sweets is emphatic about using only the proper and best method to con-serve the Persac plans. "They will be lined to supports of medium-weight Japanese Okawara paper with a wheat starch paste," he said. He added the proper method is required in order to retain the historical integrity of the works.
In conservation, no part of the original work can be compromised. This is achieved by stabilizing the plan, which depicts a three-block overview of the Jefferson Parish area and an 18th century building elevation. The objective is not to match the colors perfectly, although it is possible in some cases to do so. The conservator's work shows future historians what is original and what isn't.
Visit the New Orleans Conservation Guild's web site at www.art-restoration.com to see some remarkable before, during and after photos that document the conservation process.