THE GUILD IN THE PRESS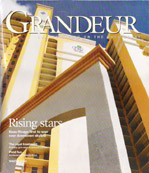 Every Picture Tells a Story
The fine art of buying fine art in the Big Easy
BY JAY MACDONALD
- Grandeur, Winter 2004

I am in the presence of "The Pig Woman," and for the moment at least, the monotone drone of the auctioneer, the shuffling of folding chairs and the easy amble of traffic passing by Magazine Street all succumb to my fascination with the Knute Heldner painting.

Everyone at Neal Auction this afternoon is well aware that this engaging rural portrait is on of the plums of this year's Louisiana Purchase Auction. The annual event draws serious collectors of Southern art to New Orleans each fall for a three-day sale of some 1,500 paintings, sculptures, antique furniture and objets d'art.

You can feel the competitive buzz as the routine bidding on armoires, Audubon bird books and antebellem steamship bells slowly builds to the crying of lot 777. Heldner (1886-1952), a Swedish immigrant from Minnesota who excelled at Southern landscapes, is considered by many to be an under-appreciated American master. I'm no expert, but I tend to agree.

Tension mounts with each hammer clap as the likely bidders fidget and pace the perimeter, steeling themselves for one of the most thrilling two minutes of their lives. In all likelihood, this painting, previously in the collection of the Duluth Art Institute, will never come to auction again in our lifetime.

A FINE MADNESS
Several blocks away in the lower Garden District, novelist John Ed Bradley gets butterflies just thinking about the hammer coming down on "The Pig Woman."

It's moments like these that try Bradley's soul.

Once a star offensive center for the LSU Tigers, Bradley now saves his game face for auction days. Woe be unto the gentle bidder who gets between him and an attainable Heldner, Noel Rockmore or Alberta Kinsey.

"I get crazy," Bradley admits, laughing at himself. "Auctions get as competitive as any football game I ever played. I start banging my head against the wall."

Bradley caught this fine madness during his days as a Washington Post feature writer. He spent hours combing the national collections and commuting to New York gallery openings. In New Orleans, he has found a home among the artists and art enthusiasts who make NOLA one of the liveliest art scenes in the country.

Quick art history lesson: In the 19th century, artists gravitated to the South's three busiest ports - New Orleans, Charleston and Savannah - where wealthy merchants provided steady portrait work. The beauty of the Louisiana bayou spawned a school of atmospheric landscape paintings best characterized by the work of William Henry Buck and Alexander John Drysdale.

That regional sensibility would later take many different forms: the stylized realism of Heldner, the vibrant impressionism of John McCrady, the seductive French Quarter courtyard atmospherics of Kinsey, the social realism of Thomas Hart Benson and the haunting Preservation Hall portraits of Rockmore, to name just a few.

After several sleepless nights, Bradley has decided not to pursue "The Pig Woman," whose price is likely to break him. This is a serious, potentially life-altering decision. For this reason, he has stayed away from the auction entirely, his reasoning obvious: "If I go, I might bid."

An art jones has been very good for Bradley. It lit a fire under his fifth novel, "My Juliet," is about a troubled New Orleans artist hopelessly smitten with a most difficult muse, and his latest, "Restoration." Like his fictional alter egos, Bradley is all in when it comes to art.

His twin passions have developed a curious symbiotic relationship; the royalty checks from his novels barely warm his palm before they're turned over to an auction house or gallery, forcing him to write another.

"Man, I've got the disease bad and I haven't met the cure yet," he says. "It's not about money to me. It's just the painting. I'm an amateur art historian and a sick collector. I'm a sick man."

THE INVISIBLE ART: RESTORATION
Blake Vonder Haar can't wait to get her hands on four life-sized Art Deco murals by mid-century modernist Paul Ninas.

The murals brighten up the wee-small-hours ambiance of the Fairmont Hotel's famous Sazerac Bar. Vonder Haar doesn't want to buy them; she wants to restore them.

The hotel and legendary lounge was the unofficial headquarters of Louisiana Gov. Huey "Kingfisher" Long, who liked to hold morning press conferences here in his pajamas. Years of smoke and booze have darkened Ninas' colorful street scenes, whimsically sprinkled with such celebrities of the day as the Duke and Duchess of Windsor and Groucho Marx.

Vonder Haar's New Orleans Conservation Guild, which she founded in 1997, specializes in the restoration of painting, gilded frames, ceramics, porcelain, stone, glass and furniture. Her 12-member staff recently restored 64 items damaged in the fire bombing of Beauvoir, the Jefferson Davis estate in Biloxi, Mississippi.

She has restored everything from a $10 million Van Gogh to family heirlooms, giving the same care and attention to detail to each. She also frequently helps clients worldwide by providing condition reports on art prior to bid.

Artwork undergoes all sorts of trauma. and nowhere more so the in hot, humid New Orleans.

Vonder Haar removes the grime, discolored varnish and occasional additions (one painting inexplicably had a dozen seagulls rendered in Wite-Out) and expertly fills without embellishing those areas destroyed or discolored by sunlight, fire, water damage or punctures.

The New Orleans Conservation Guild recently moved from the struggling-artist Bywater neighborhood adjacent Faubourg Marigny into bright new digs in the 90,000-square-foot Louisiana ArtWorks complex at 725 Howard Street in the heart of the Warehouse District. Its new street frontage has enabled the Guild to open an arts supply market that specializes in top quality products aimed to keep the restorer away.

Vonder Haar estimates the Ninas mural will take two months to restore. And since they cannot be moved, her crew will have to work their magic on-site, likely in the wee-small hours of the morning.

ART CENTERS OF THE BIG EASY
With more than 100 galleries, New Orleans is the ideal spot to begin or expand your Southern art collection. Whatever your taste or budget, you'd have to have a blindfold on to walk out of the Big Easy empty handed. Still, a little orientation helps make the most of this adventure.
There are three distinct neighborhoods for fine arts in NOLA: the French Quarter (or Vieux Carre), the Warehouse District and Magazine Street (after the "magazin" that Spanish Gov. Miro used to house exports).

The French Quarter is home to some of the most sumptuous galleries in town. If you're looking for a trophy Monet or Cezanne, this is the most likely where you'll find it. Bargain hunters, however, would be wise to look elsewhere, with one notable exception: Struggling artists display their work on the black wrought-iron fence that surrounds the park at Jackson Square. To discover even younger artists, visit NOCCA, the New Orleans Center for Creative Arts, the local "Fame" incubator in Bywater.

The Warehouse District, NOLA's still-coalescing gallery district nestled between the Central Business District and the Mississippi River, is where you're most likely to find the emerging stars. Its lovely new Ogden Museum of Southern Art, a Smithsonian affiliate less than two years old, is still finding its footing but promises to become a major force on the scene in coming years.

Check out more than a dozen galleries along Julia Street, as well as New Orleans Auction, the Contemporary Arts Center and the new Louisiana ArtWorks, the only venue of its kind to invite visitors inside the visual arts process.

Unlike the Quarter and Warehouse District, the Magazine Street arts neighborhood, some seven miles long, is best explored by car. It runs parallel to the streetcar line between St. Charles Street and the river, with a couple dozen galleries, antique stores and retro shops scattered throughout the lower Garden District between the presidents (Jackson and Jefferson avenues).

The shops are somewhat grouped with restaurants and coffee shops nearby, but too far apart unless you're an avid jogger. This is the center of trash to treasure, kitsch to chic, retro to repo and beyond.

THE CRYING OF LOT 777
"The Pig Woman" appears on the overhead screen. Phone and eBay bidders are standing by. Nervous casualness turns suddenly serious.
I know John Ed Bradley is coaching a friend who's thinking of diving into this power date. I've seen his Heldners; I know what they mean to him.

And Blake Vonder Haar has previewed this and the other pieces of the Louisiana Purchase Auction, appreciating the sheer wonder of oil on canvas, the enduring power of brushed light.

It feels like a family affair now, somehow personal. I care what happens to "The Pig Woman," however absurd that seems.

The auctioneer cries Lot 777. Rush of blood to the veins. Almost without warning, the numbers climb: $35,000, $40,000, $50,000, the upper end of the catalog spread.

Up it moved to $60,000, the auctioneer's voice rising with the bid.

Two bidders remain, a woman with a preteen daughter near the back and an anonymous phone bidder. Sixty-two five. Sixty-five. Sixty-seven five in the room. Will the phone bidder go to seven?

Going once... going twice... fair warning... sold in the room for $67,500, a record for a knute Heldner painting.

With the slam of the hammer, "The Pig Woman" has a new home, I have a double-latte buzz that will last the week, and Neal Auction can set about replacing these irreplaceable works with yet another collection for sale.

Every picture, it is said, tells a story, and it's certainly true in New Orleans. If you've never explored this city's riches beyond the obvious thrills of the French Quarter, by all means make a point to do so. It's quite a story.