THE GUILD IN THE PRESS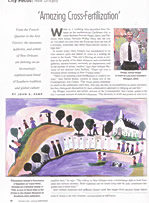 City Focus: New Orleans
'Amazing Cross-Fertilization'
From the French Quarter to the Arts District, the museums, galleries, and artists of New Orleans are thriving on an increasingly sophisticated blend of Southern tradition and global culture
by John R. Kemp
- ARTnews, February 2005


Writer A.J. Liebling once described New Orleans as the northernmost Caribbean city, a cross between Port-au-Prince, Haiti, and Patterson, New Jersey. Novelist Walker Percy saw the city as "cut adrift not only from the South but from the rest of Louisiana, somewhat like Mont-Saint-Michel awash at high tide."

In recent years, New Orleans has reawakened to its own creative spirit and staked its claim as a leading art center in the South. "The city's thriving art scene is evident in the quality of its many museums and commercial galleries, auction houses, university art departments, and in the number of artists' studios," says New Orleans Museum of Art director John Bullard. "There are over a thousand artists working in New Orleans today."

"There is an amazing cross-fertilization of creative energy," says David Rubin, curator of the visual arts at the Contemporary Arts Center. "The visual artists contribute so much to the celebratory spirit here. Not only are they as accomplished as artists anywhere, but they distinguish themselves by their collaborative approach to merging art and life."

Jay Weigel, executive and artistic director of the Contemporary Arts Center, points to the city's unusual mixture of cultural influences. "The diversity of work and points of view is incredible here," he says. "The culture in New Orleans owes a tremendous debt to both European and African ancestry. Both traditions can be found lying side by side, sometimes integrated into a fused style."

New Orleans museums and galleries feature work that ranges from ancient Asian objects to 19th- and 20th-century classics to outsider, folk, and cutting-edge contemporary art. The New Orleans Museum of Art, now one of the largest art museums in the South, recently opened its $10 million, seven-acre Sydney and Walda Besthoff Sculpture Garden, featuring a who's who of 19th- and 20th-century sculptors, including Antoine Bourdelle, Henry Moore, Jacques Lipchitz, Barbara Hepworth, Louise Bourgeois, Alison Saar, and Joel Shapiro. "Everybody here is in touch with what's going on nationally," says J. Richard Gruber, director of the Ogden Museum of Southern Art. "At the same time, there is an awareness of New Orleans's own history." Take, for example, the African mythology that influences the sculpture of John Scott or the pulsating rhythms of Cajun and zydeco music in Francis Pavy's paintings.

The city's art scene is centered in three neighborhoods with distinct personalities: the French Quarter, the Arts District, and Magazine Street. The French Quarter, well known for its Bourbon Street bars, has nearly 30 galleries, ranging in specialty from 19th-century American and European painting and sculpture to contemporary art, including some of the biggest names in photography. Bryant Galleries represents New Orleans pastel artist Alan Flattmann, Kansas-based realist watercolor painter Dean Mitchell, and Croatian landscapist Mersad Berber, while Hanson Gallery shows Frederick Hart, LeRoy Neiman, and Peter Max. Windsor Fine Art specializes in works on paper by Picasso, Miro, Renoir, and Dali, and A Gallery for Fine Photography features Ansel Adams, Henri Cartier-Bresson, Yousuf Karsh, Margaret Bourke-White, and Edward Steichen, among others.

Across Canal Street from the French Quarter is the Arts District. Located in the city's business and banking center, the district is anchored by the Arthur Roger, LeMieux, Jonathan Ferrara, Heriard-Cimino, d.o.c.s., Radici, Soren Christensen, Sylvia Schmidt, and Stella Jones galleries, as well as Marguerite Oestreicher Fine Arts and the New Orleans Glassworks and Printmaking Studio. All show national and regional emerging and established artists. Stella Jones is one of the city's only galleries specializing in African American, Caribbean, and African contemporary art.

Arthur Roger of Arthur Roger Gallery suggests that New Orleans attracts artists because of its creative freedom. "Artists are aware of what others are doing, but they are able to create their own work independent of any trends or influences that are going on in other parts of the country," he says. The gallery, one of the city's most prominent, shows work by more than 40 national and regional artists, including sculptors Lin Emery and John Scott, abstract painter Luis Souza, environmental painter Jacqueline Bishop, regional landscapist Elemore Morgan Jr., and glass sculptor Dale Chihuly. Studio glass is also visible elsewhere in the city: veteran glass artist Gene Koss, who teaches at Tulane University, has a strong presence; and Studio Inferno and New Orleans GlassWorks provide work space for glass artists.

The Arts District's soul is the Contemporary Arts Center, which opened in the 1970s. For more than 20 years, the center has used the Louisiana Biennial and other exhibitions to introduce work by New Orleans artists such as Douglas Bourgeois, whose figurative paintings blend magical realism, Baroque drama, Southern Pop culture, and Renaissance precision, while addressing contemporary political and social themes. The center also shows prominent national artists, including Jack Ox and Arnold Mesches, who exhibited there last year. Featured this month are images of Israel's rave culture by Israeli-born, New York-based photographer Tomer Ganihar.

The Ogden Museum of Southern Art opened in the Arts District in August 2003, after operating in a small gallery since 1999. The 2,700-plus works that form the core of the museum's holdings come from New Orleans businessman Roger Ogden, who has collected Southern art throughout his life. The museum, which is affiliated with the University of New Orleans, plans to add 20,000 square feet of exhibition space for its 18th- and 19th-century collections. "With the opening of the Ogden Museum," says director Gruber, "we have a place to study the distinct flavor and soul of Southern art and trace its legacy, exploring the visual influence of the South on American culture."

Scheduled to open in the Arts District this spring is Louisiana ArtWorks—a 90,000-square-foot complex comprising artists' studios, galleries, shops, and areas used for art-making demonstrations—conceived, built, and managed by the Arts Council of New Orleans. "It's not a museum or a gallery but a place where artists and the public will be able to explore the creative process from inspiration to execution," says Shirley Trusty Corey, Arts Council president and chief executive officer. Corey is confident that the $26 million facility will play a significant role in helping "move the outside world's preexisting ideas of Louisiana beyond music and food to more fully encompass the visual arts."

Not far from the Arts District, in the former American Beauty egg-packing factory, is ArtEgg Studios. Esther Dyer, a jewelry maker, an art collector, and the executive director of the American-Italian Cancer Foundation in New York, converted the vast factory building into affordable artists' studios. "I wanted a place without an agenda and a place where artists, collectors, and like-minded people could meet and interact," she says. ArtEgg holds a monthly market outside for 25 artists to sell their work—a concept that has caught on around the city. Every October the Arts Council holds its annual juried Fresh Art Festival in the Arts District; the growing Mid-City Art Market is held the last Saturday of each month; and the monthly Bywater Art Market, located downriver from the French Quarter, boasts over a hundred local and national artists. "Except for Jackson Square in the French Quarter and in galleries, for a long time New Orleans did not have a venue for people to sell their art directly to the public," says Blake Vonder Haar, who founded the Bywater Art Market in 2002 and is also founder and president of the New Orleans Conservation Guild. "People can now buy affordable art and not just jazz posters and ink-jet prints."

Magazine Street, which is uptown from the Arts District, also has a mixture of art venues. Best known among the dozen or so galleries and alternative art spaces along the six-mile street are the Cole Pratt and Carol Robinson galleries and the Academy Gallery at the New Orleans Academy of Fine Arts. Cole Pratt specializes in Southern and third coast (Gulf Coast) artists, while Carol Robinson's stable includes local and national artists. The Academy Gallery has periodic invitational exhibitions for regional artists, including its annual show of miniature works each winter. "The arts community here is vigorous and well balanced," says New Orleans Academy of Fine Arts director Auseklis Ozols. "Those making art in a realist tradition are just as numerous as those pursuing more conceptual forms."

According to gallery owners, the city's expanding art scene has had a tremendously positive effect on the local art market. "It's been a huge leap for us," says dealer Cole Pratt. "The New Orleans art scene is the healthiest it's ever been. We have one of the most interesting collections of galleries, the artist co-op scene is stronger than ever, and alternative art spaces are showing a better quality of work than ever before."